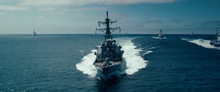 The Arleigh Burke-class of guided missile destroyers (DDGs) is the United States Navy's first class of destroyer built around the Aegis Combat System and the SPY-1D multi-function phased array radar. The class is named for Admiral Arleigh Burke, the most famous American destroyer officer of World War II, and later Chief of Naval Operations. The class leader, USS Arleigh Burke, was commissioned during Admiral Burke's lifetime.
They were designed as multi-role destroyers to fit the AAW (Anti-Aircraft Warfare) with their powerful Aegis radar and anti-aircraft missiles, ASW (Anti-submarine warfare), with their towed sonar array, anti-submarine rockets, and ASW helicopter, ASUW (Anti-surface warfare) with their Harpoon missile launcher, and strategic land strike using their Tomahawk missiles. Some versions of the class no longer have the towed sonar, or Harpoon missile launcher. Their hull and superstructure were designed to have a reduced radar cross section The first ship of the class was commissioned on 4 July 1991. With the decommissioning of the last Spruance-class destroyer, Cushing, on 21 September 2005, the Arleigh Burke-class ships became the U.S. Navy's only active destroyers; the class has the longest production run for any postwar U.S. Navy surface combatant. The Arleigh Burke class is planned to be the third most numerous class of destroyer to serve in the U.S. Navy, after the Fletcher and Gearing classes; besides the 62 vessels of this class (comprising 21 of Flight I, 7 of Flight II and 34 of Flight IIA) in service by 2013, up to a further 42 (of Flight III) have been envisaged.
With an overall length of 505 feet (154 m) to 509 feet (155 m), displacement ranging from 8,315 to 9,200 tons, and weaponry including over 90 missiles, the Arleigh Burke-class ships are larger and more heavily armed than most previous ships classified as guided missile cruisers.
---