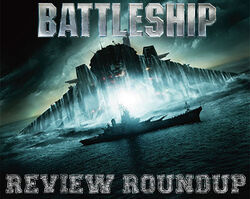 Battleship is almost here! After months of waiting, we can finally experience this sci-fi blockbuster on the big screen! But how good is the movie, according to the critics? Check out our review round-up below for the answer to that question, and be sure to leave your opinion in the reviews section!
Overall, the critics reviews have been generally negative, and according to Rotten Tomatoes only 56% of their users gave favorable reviews. So far, it has a Metacritic score of 40/100 (Mixed or average reviews) and a Rotten Tomatoes score of 36% (Rotten).
Positive
AfterElton.com
Score: 7/10
A deafening, seizure-inducing, patently ridiculous full-length military ad co-directed by Michael Bay and a trash compactor. Worst of all, it's also a hell of a lot of fun.
Read more: http://www.afterelton.com/content/2012/05/review-battleship
The HollyWood Reporter
Score: 60%
Those looking for big, loud sci-fi action will find plenty to like here as director Peter Berg (Hancock, Friday Night Lights) pumps up the volume on clashing military hardware and flag-waving heroics.
Read more: http://www.hollywoodreporter.com/review/film-review-battleship-310991

That Movie Show 2UE
Score: 2.5/5
Battleship is an unapologetic marriage between a Sci-Fi & Navy/Military geek's wet dream; and the simple yet resonant premise works for it. It's a buttery, American triumphalist, generic, fluffy, cinematic popcorn escapism and the human element makes it more enjoyable than any of the Transformers flicks.
Read more: http://castleco-op.com/?p=7656

Birmingham Mail
Score: 3/5
Listening to Angus Young's guitar riffs blasting out of today's state-of-the-art digital speakers is a whole new way of rocking the boat at sea.
Read more: http://blogs.birminghammail.net/megamovies/2012/04/review-battleship-12a-131-mins.html

Daily Mirror (UK)
Score: 3/5
Like the very best junkfood, Battleship has no nutritional value whatsoever but goes down easy. I just hope the film is meant to be a send-up.
Read more: http://www.mirror.co.uk/lifestyle/going-out/film/battleship-review-rihanna-rocks-the-boats-787491

Moviedex
Score: 3.5/5
I found myself reveling in the silliness of what is, essentially, the most expensive B-movie ever made.
Read more:http://moviedex.com/reviews/3-12-stars/battleship-video-review/

Film4
Score: 3/5
An assault on reason, logic and complex characterisation, but in an enjoyable way, like a slightly less camp dramatisation of the Village People's finest ship-based sing-song.
Read more: http://www.film4.com/reviews/2012/battleship

Sun Online
Score: 3/5
For action junkies this is a passable way to spend two hours, if you're in an undemanding mood.
Read more: http://www.thesun.co.uk/sol/homepage/showbiz/sftw/4253906/Alex-Zane-reviews-Battleship-starring-Rihanna-and-Liam-Neeson.html
Thought it was "ok"
ComingSoon.net
Score: 5/10
Hasbro's classic game is clumsily shoehorned into a movie that literally takes every single Michael Bay movie and squooshes them into a formulaic action blockbuster.
Read more: http://www.comingsoon.net/news/reviewsnews.php?id=89197

Tri-City Herald
Score: 3.5/5
Battleship may be based on the popular Hasbro game, but it's more like Transformers. Only Battleship can claim a better plot. But "better" is always a relative term.
Read more: http://www.tri-cityherald.com/2012/05/16/1942446/battleship-more-like-transformers.html

Variety
Score: 50%
Overlong and underwritten even by the standards of summer f/x extravaganzas, this Battleship will nonetheless float with many on the strength of its boyish, eager-to-please razzle-dazzle.
Read more: http://www.variety.com/review/VE1117947367?refcatid=31
Negative
Houston Press
Score: 0.5/5
There's nothing about Battleship that doesn't feel like the conclusion of a hundred lengthy focus group discussions.
Read more: http://blogs.houstonpress.com/artattack/2012/05/battleship_review.php

Empire
Score: 40%
Miss.
Battleship is an event movie so lunkheaded - both in concept and execution - that it's hard not to suspect director Peter Berg of playing a prank.
Read more: http://www.empireonline.com/reviews/reviewcomplete.asp?FID=136712

Total Film
Score: 40%
Misguided in the extreme. A scene in which Kitsch and co aim blindly for the broadest of targets – and miss by miles – proves painfully apt.
Read more: http://www.totalfilm.com/reviews/cinema/battleship-1?ns_campaign=reviews&ns_mchannel=rss&ns_source=totalfilm&ns_linkname=0&ns_fee=0

The Standard
Score: 1/5
HERE it is - the first truly bad film of the year.
Greenlit in the wake of Transformers' success, game and toy manufacturer Hasbro thought that licensing their other product lines to movie-makers might replicate the success of Michael Bay's smash-'em-up robot adventure.
Unsurprisingly, the plotless strategy game of Battleship (which I'm reasonably sure no one plays anymore) does not make for a good movie.
Read more: http://www.standard.net.au/blogs/movie-reviews/review-battleship/2520803.aspx?storypage=0

Daily Mail (UK)
Score: 0/5
Battleship is trash.
Not even distantly related to Eisenstein's Battleship Potemkin, it comes at you courtesy of many of the people who gave us the Transformers movies, including the toymaker Hasbro (yes, it's vaguely, and at times laughably, based on the board game), so it's no surprise it's noisy, violent and brainless.
But even for an alien invasion movie, it's excruciating. Compared to this, Independence Day was subtle and sensitive. Hell, even last year's Battle: Los Angeles was smarter.
Read more: http://www.dailymail.co.uk/tvshowbiz/reviews/article-2129064/This-Battleship-deserves-sink-trace-shows-Tinseltown-tawdry.html#ixzz1uS7jADos
Wikian Reviews
Now it's time for Wikians to review Battleship. Go see the film, then post your thoughts in the reviews section below, or post your own blog! Let us know what you thought while experiencing Battleship on the big screen!
Community content is available under
CC-BY-SA
unless otherwise noted.